Shopping Cart
Your Cart is Empty
There was an error with PayPal
Click here to try again
Thank you for your business!
You should be receiving an order confirmation from Paypal shortly.
Exit Shopping Cart
| | |
| --- | --- |
| Posted on January 3, 2018 at 9:35 AM | |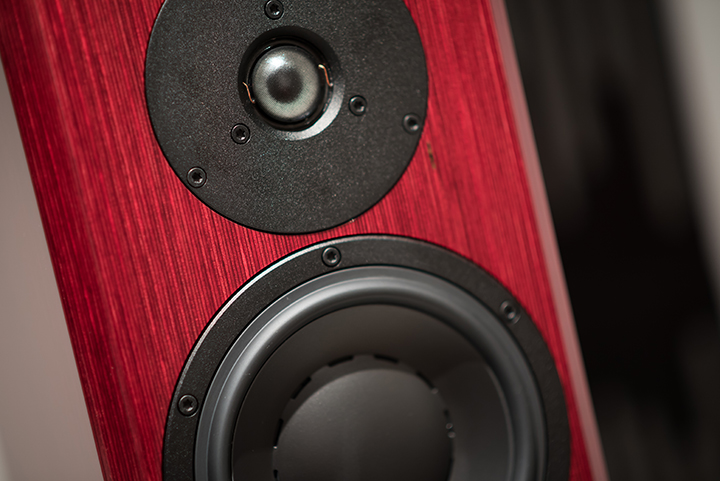 It seems, lately I only review Dynaudio speakers, and this is the third pair of Dynaudio speakers I review this year. I admit I have developed a strong connection to this brand's signature sound. After all, I bought the Dynaudio Contour 20, sight unseen, after reviewing the Dynaudio Excite X18 bookshelf speakers.
Last summer the Special Forty was introduced to the world, as a celebration of Dynaudio 40th anniversary and early on I knew I had to get a pair in for review. Thankfully, a site member was kind enough to lend me his brand new speakers for review.
Highlight features of these speakers include some of the brand's best technologies, like a special designed Esotar Tweeter, called Esotar Forty, which better handles air movement. Also, the woofer uses their proprietary MSP (Magnesium Silicate Polymer) material. Combined with a phase and impedance aligned first order crossover, all housed in a beautifully finished cabinet.
Construction
Designed to fit nicely between the Excite and the Contour line up, the Special Forty is more mature and elegant than the X18, while not as refined as the Contour 20. They are an interesting proposition for the buyer that values performance as well as pride of ownership.
Also, at 6 ohms this speaker is easier to drive than the other two referenced models. Exclusively designed for the Special Forty, the Esotar Forty soft-dome tweeter is based on the Esotar2 tweeter, commonly regarded as one of the world best drivers. It draws in the same non-fatiguing top end we have come to expect from Dynaudio, without the neutral shift associated to soft-dome tweeters.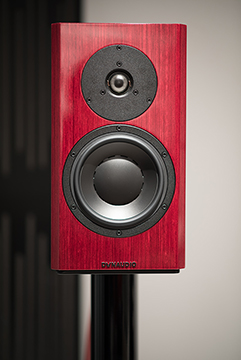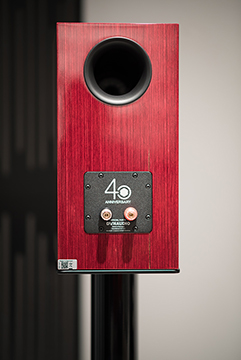 Mid to low frequencies are handled by an MSP driver, with an extended-excursion aluminum voice-coil, optimized for the improved cabinet and crossover design, that provide cleaner and better low frequencies than the X18.
I love the beautifully terminated rear ported cabinet; our review came with the red Birchwood high gloss veneers. They are also available in a grey high gloss veneer finish. Unfortunately, the red veneers finish is not as strong as it looks in the pictures. Actually; it is more of a burgundy color but with the right lighting it will visually pop out as red.
Other fancy stuff includes five way single wire binding post and the magnetic grill.
Speaker Placement
Once mounted on their stands (Dynaudio Model 6), the Special Forty's where easy to position in the room. Their rear ported bass reflex designs have no unusual or extraordinary positioning demands.
As expected the ports are sensitive to back wall distance. For the best tonal balance I'll recommend leaving more than a foot and a half (1-1/2' feet) of distance between the rear and side walls. If space is at a premium, Dynaudio provides tunable port plugs, to help control the speakers' low frequency output.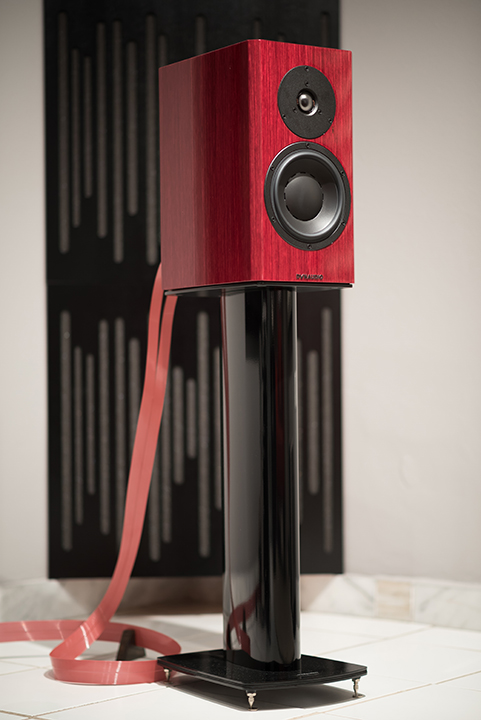 In my room it did benefit partially blocking the speaker ports, due to some distortion and sound coloration, associated with my room resonant frequencies. The plugs have a removable cylinder inside, for less or more dampening as needed. You can easily go crazy just playing with the speaker ports.
I recommend at least six (6) feet of space between the speakers for a convincing soundstage. A bit of tilting toward the listener is all that's needed to get a sharp rendition of instruments edges and positioning.
Sound
These speakers required a long break in period for they sound to stabilize. Firstly, it strikes me how similar the mid to high frequency balance was to the big Contour 20's, with a clean, rounded and extended top end. The crossover from tweeter to midrange is natural and transparent, with no obvious coloration of male or female voices.
What a wonderful word plaid by the Tsuyoshi Yamamoto Trio (Venus Records - VHJD-85) shows the speakers ability to handle low frequencies. Bass is taut, with good; rhythm and pace, and has enjoyable detail and textures. However, the minute transient that help with presence, atmosphere and depth, can sometimes be obscure by the bass extension. Otherwise, focus and holographic imaging are superb.
Opinion
The Special Forty is a great looking and sounding speaker. Still, probably not the best value proposition. Considering that for this amount of money, spending a few thousand dollars more could get you even better performance. However, I did like this speaker and maybe, just maybe, spending more will not necessarily get you more music enjoyment.
If you liked this article you may be interested on our review of the Dynaudio Contour 20
Specifications:
Special Forty (Bookshelf Speaker)
www.dynaudio.com
Estimated Price: $3,000
Sensitivity: 86db (2.83V/ 1m)
Impedance: 6 Ohms
Frequency Response: 41 Hz – 23hHz (+/-3db)
Crossover: 2 way, 1st order (2,000 Hz)
Woofer: 6.5" MSP cone
Tweeter: 1.1" Esotar Forty
Weight: 17.9lb (each speaker)
Dimensions (W x H x D): 7.8 x 14.2 x 12.1in
Associate Equipment:
Turntable: Clearaudio Champion w/ Unify Tonearm
Cartridge: Ortofon Quintet Black (Original Boron Cantilever Version)
Phono Stage: Roksan Caspian M Series DX-2 Reference
CD player: Marantz SA-15s2 Limited
Integrated amplifier: Marantz PM-15s2 Limited
Power conditioner: Furman Elite-15 PFi
Interconnect cables: Nordost – Red Dawn (0.6m) (RCA)
Speaker cables: Nordost - Red Dawn LS (2.5m)
Power cables: Nordost - Red Dawn (1m)
Acoustic materials: MioCulture, Auralex and Vicoustic
Follow us on Facebook, your all in one online analog and high-end audio information resource. Also, don't forget to subscribe to FormatoAnalogo.com.
Due to reader's popular demand, we are changing the site main language to English. We would try to translate our entire old article as soon as possible, but it would take time. As always we appreciate your patience and support.
Categories: Speakers Reviews
/