Shopping Cart
Your Cart is Empty
There was an error with PayPal
Click here to try again
Thank you for your business!
You should be receiving an order confirmation from Paypal shortly.
Exit Shopping Cart
| | |
| --- | --- |
| Posted on March 17, 2017 at 5:50 PM | |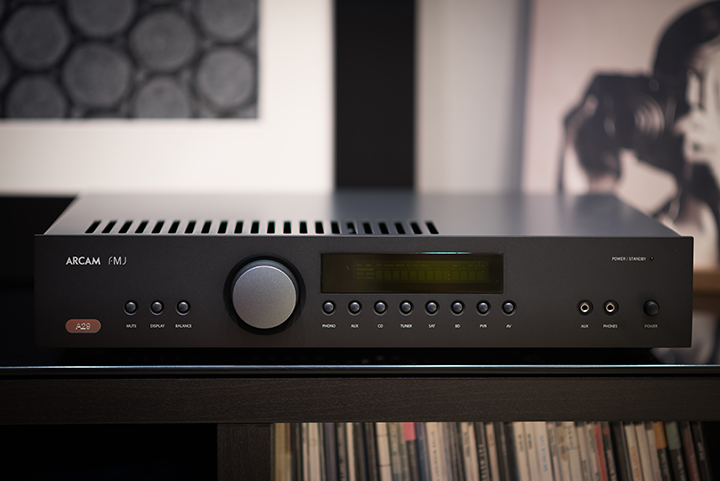 The Arcam FMJ A29 integrated amplifier is an interesting proposition in paper, because, it uses a Class G amplification typology, an amplifying circuit which exchanges between two power supply rails to provide more efficient power than a class a/b amplifier.
In few words, this relatively small integrated amplifier produces 80 watts at 8 Ohms and it can handle loads of 4 Ohms, moreover, it does so in an ecofriendly manner. But will it provide enough authority over power hungry loudspeakers?
Construction
The Arcam FMJ A29 feels like a high-end product, with a simple, compact and European design. It weighs a hefty 20 pounds, compressed into a 17.05 "(W) x 3.34" (H) x 10.82 "(D) box. The preamp section is completely analog, with no digital inputs. The speaker cable binding post are of exceptional quality and extremely accessible.
Included is a built-in moving magnet (MM) phono preamp. The phono input load is 47k ohm, suitable for most (MM) cartridges. As usual at this price point, it does not offer the flexibility of loading or capacitance adjustments.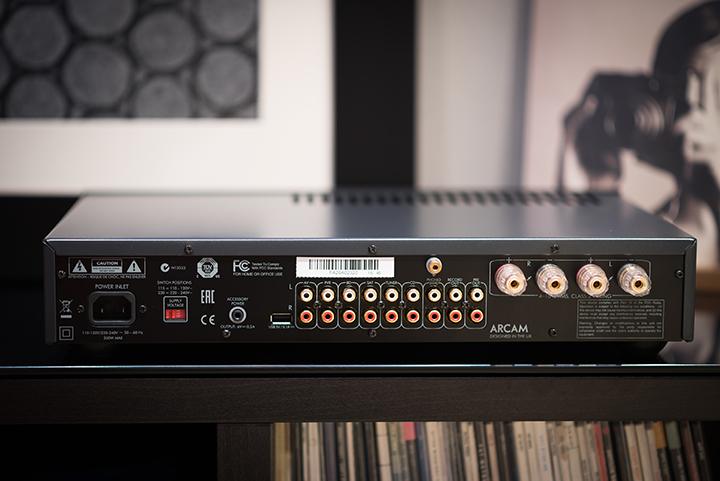 Installation
I used the Arcam FMJ A29 with my Dynaudio Contour 20 Speakers, although, I had to use the Ortofon ST-7 step up transformer to increase the signal level from my Ortofon Quintet Black to be compatible with the Arcam phono stage. Everything was connected using Nordost Red Dawn wiring.
Sound
The phono performance of the Arcam was adequate, even so, the sound was less dynamic and expansive than other integrated amplifiers I've ever heard at this price point. I would have loved to use an external phono preamplifier for this review, but I did not have one on hand at the time. However, to be fair on the integrated performance review I had to complete the review using a digital source (CD player Marantz SA-15S2 Limited), on one of the line level inputs.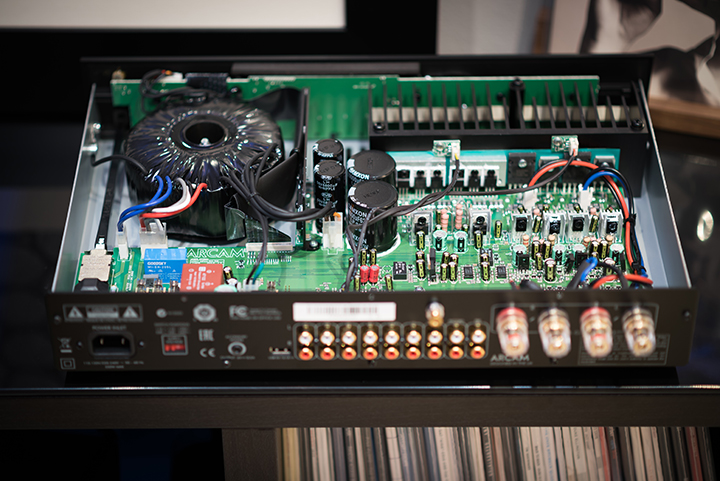 The Arcam is an integrated with lots bass control and articulation. The expansion and management of low frequencies is his greatest skill. Meanwhile, the musical presentation is somewhat relaxed in high frequencies. Subtle details could be darkened, in favor of a sound more romantic and warm. It did fail to extract all the definition and focus that a speaker as the Dynaudio Contour 20 had to offer.
However, this integrated will probably not be on the short list of people with speakers like the Dynaudios. Once, I changed to the lighter load of the Paradigm Studio 10 V.5 the Arcam performed flawlessly, controlling the aggressive personality of the speaker.
Conclusion
Even so, agility and transparency is not this integrated strong point, if not, its ability to reproduce sound with appropriate size and scale. In conclusion, Arcam FMJ offers a lot of power in a small package and fantastic low frequencies at the expense of a bit of musicality.
If you liked this article you may be interested on our Vincent Audio PHO-8 review .
Specifications:
Arcam FMJ A29
www.arcam.co.uk
Estimated Price: $1,200.00
Power: 80w @ 8 ohm (20hz -20khz, stereo) / 175w @ 4 ohm (1khz , one speaker)
Dimensions: 17.05" (W) x 3.34" (H) x 10.82" (D)
Weight: 19.10 lb
Associated Equipment:
Turntable: Clearaudio Champion w/ Unify Tonearm
Cartridge: Ortofon Quintet Black (Original Boron Cantilever Version)
CD player: Marantz SA-15s2 Limited
Speakers: Dynaudio Contour 20 / Stands Dynaudio Model 6
Power conditioner: Furman Elite-15 PFi
Interconnect cables: Nordost – Red Dawn (0.6m) (RCA)
Speaker cables: Nordost - Red Dawn LS (2.5m)
Power cables: Nordost - Red Dawn (1m)
Acoustic materials: MioCulture
The reviewed product was provided to FormatoAnalogo.com by

Audio visual equipment store
f. @AudiovisionariesLLC
t. (787) 728-6969
Tuesday to Saturday, 10:00am - 6:00pm
Guaynabo, Puerto Rico
Follow us on Facebook, your all in one online analog and high-end audio information resource. Also, don't forget to subscribe to FormatoAnalogo.com.
Due to reader's popular demand, we are changing the site main language to English. We would try to translate our entire old article as soon as possible, but it would take time. As always, we appreciate your patience and support.
Categories: Integrated Amplifiers Reviews
/