Shopping Cart
Your Cart is Empty
There was an error with PayPal
Click here to try again
Thank you for your business!
You should be receiving an order confirmation from Paypal shortly.
Exit Shopping Cart
| | |
| --- | --- |
| Posted on November 25, 2017 at 1:05 PM | |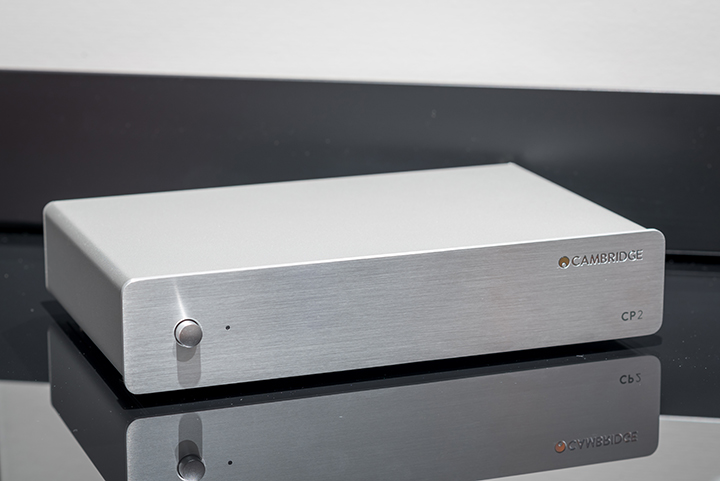 When a friend of mine started complaining about the sound he was getting out of the built-in phono stage of his hi-end multichannel receiver, I told him it was time to start looking for a quality external phono preamp.
As a matter of fact, most phono stages included on integrated amplifiers and receivers are an extra feature to attract more buyers, they are not designed to maximize the sound performance of vinyl records.
Even, when on a budget, a phono preamp as the Cambridge Audio CP2 could be a great solution to a built-in phono section. As described by Cambridge Audio, to make the most of any turntable, you need a good phono preamplifier; it must be capable of amplifying the very small signal from the cartridge to a level powerful enough for the main preamplifier to work with. The hard part is getting the job done without adding noise and distortion to the signal.
Construction
Cambridge is a budget conscious audio brand, and they have not failed to deliver a suitable replacement to their acclaimed 551p and 651p Phono preamp (MM only and MM/MC versions respectably) with the new CP1 and CP2 phono preamp ($169 and $250 respectably). Changes to the new CP2 model, we are reviewing, include but are not limited to; better internal parts and a new balance channel control for fine correction of cartridge imbalance.
I have never been disappointed with the fit and finish of Cambridge products. Even on a budget this feels like a higher quality product. The clean, elegant lines of the thick aluminium front panel are designed to match the new CX series of components and are available in black and silver finishes.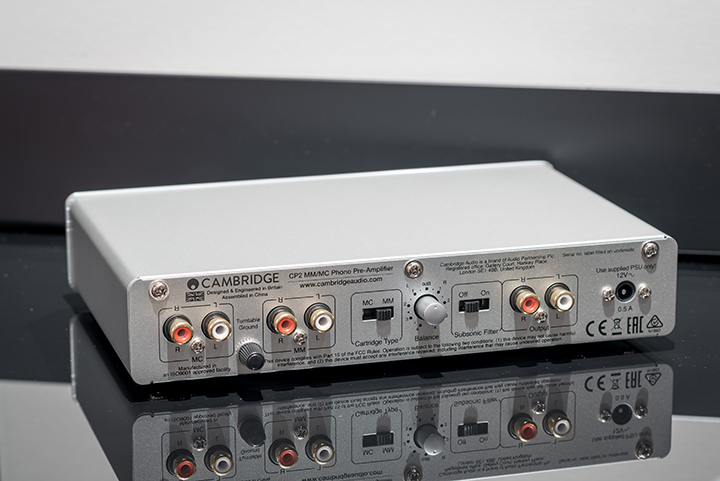 The amplification stage is based on a class A design with separate MM and MC input stages. While the RIAA equalization is completely passive and uses multi-parallel filter capacitors to achieve better performance. As common in this price rage, power supply is an external wall wart unit, which is supposed to lower internal circuit noise.
Input impedance is fixed at 47k Ohms (MM) / 100 Ohms (MC), compatible with most cartridges. Meanwhile, capacitance is fixed at 220pf, some people wine about this capacitance not being optimal for most main stream MM cartridges. I'll say that the variances you may hear from a change in capacitance at this performance level are not worry worthy.
Installation
The MM input was tested using an Audio Technica AT-LP120-USB with an Ortofon 2M Red on a site member's system, on the other hand, the review of the MC input was conducted using my Clearaudio Champion turntable and Ortofon Quintet Black.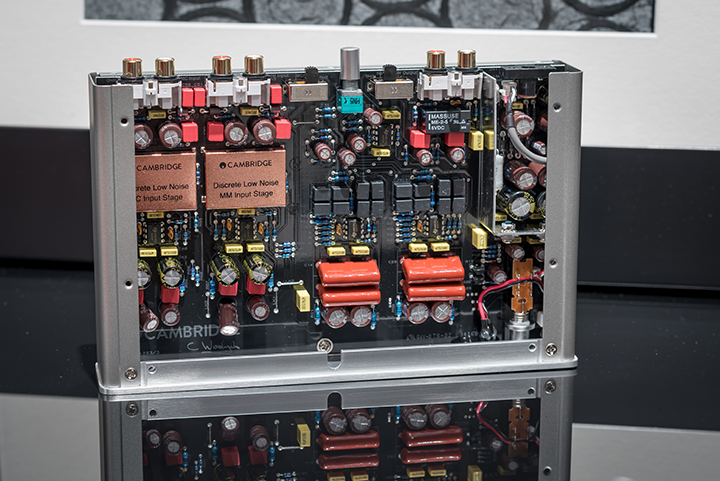 Sound
Unfortunately, the review was conducted on two different systems, to be fair; I will limit myself to describing only the sound characteristics that were noticeably related to the phono on both systems.
First off, even though there is not a lot of regulation of the power signal, Cambridge has managed to make an extremely silent phono stage, very impressive at this price range. The silent background helped with instrument note separation and perceived resolution of details.
Meanwhile, the sound tuning is all Cambridge, a bit aggressive at high frequencies, getting leaner as frequencies drops. Still, on Pat Matheny's album Orchestrion (Nonesuch - 516668-1) high frequencies are never fatiguing and have good dynamic and reach. Be aware that lower frequency dynamic lacks a bit of speed and transients, making the sound a little flat.
Conclusion
The Cambridge Audio CP2 is not a Swiss knife, it has no loading or gain adjustments limiting long term cartridge upgrades. Also, its sound can lean on the colder side for some people. But at $250 it's definitely an upgrade over most integrated phono stage solutions.
If you liked this article you may be interested on our Pro-Ject Phono Box S phono preamplifier review.
Specifications:
Cambridge Audio CP2
www.cambridgeaudio.com
Estimated price: $250.00
Frequency response: 20 - 50 kHz (MM +/- 0.3 dB)
Gain settings: 39dB (MM) / 55dB (MC)
Loading settings: 47kOhm (MM) / 10/100/1000Ohm (MC)
Capacitance: 220pF
Dimensions: 8.5" (W) x 1.8" (H) x 5.2" (D)
Weight: 2.00 lbs.
Associated Equipment:
Turntable: Clearaudio Champion / Unify Tonearm 9"
Phono Cartridge: Ortofon Quintet Black (Original Boron Version)
CD Player: Marantz SA-15s2 Limited
Integrated amplifier: Marantz PM-15s2 Limited
Speakers: Dynaudio Contour 20 / Stands Dynaudio Model 6
Power Conditioner: Furman Elite-15 PFi
Interconnect cables: Nordost – Red Dawn (0.6m) (RCA)
Speaker cables: Nordost - Red Dawn LS (2.5m)
Power cables: Nordost - Red Dawn (1m)
Acoustic materials: MioCulture & Vicoustic
Follow us on Facebook, your all in one online analog and high-end audio information resource. Also, don't forget to subscribe to FormatoAnalogo.com.
Due to reader's popular demand, we are changing the site main language to English. We would try to translate our entire old article as soon as possible, but it would take time. As always we appreciate your patience and support.
Categories: Phono Preamplifiers Reviews
/