Shopping Cart
Your Cart is Empty
There was an error with PayPal
Click here to try again
Thank you for your business!
You should be receiving an order confirmation from Paypal shortly.
Exit Shopping Cart
| | |
| --- | --- |
| Posted on June 20, 2017 at 6:30 PM | |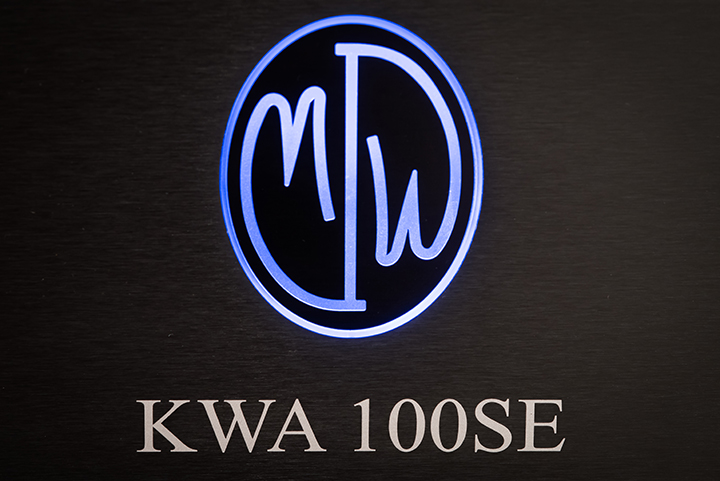 There is a common misconception that all audio amplifiers should sound the same, this is only true of ideally perfect amplifiers. In the real word, there are always compromises in the design due to budget constraints.
Also, not all speakers respond the same way to amplifiers, due to their frequency response resistance signature and efficiency. Maybe a $500 USD receiver would be enough to drive 8 ohms speakers, but it would certainly not have the same control over the speaker as a well build separate audio amplifier.
Power hungry speakers, as my Dynaudio Contour 20, like power. But not any kind of power, they prefer the brute, undistorted power you get from big amps with huge power reserves.
When a friend of mine offered to lend me his ModWright KWA 100SE for review, I immediately accepted the offer. My Marantz PM-15s2, with its modest output of 140w at 4 Ohms, makes a decent job driving my speakers, but the ModWright made the Contour 20 sing.
Construction
ModWright started as a company producing modifications to digital products, their successes lead them to start building their own equipment in 2003. Their trend of creating high performance audio, with an emphasis on quality and value, has won them worldwide recognition by audiophiles.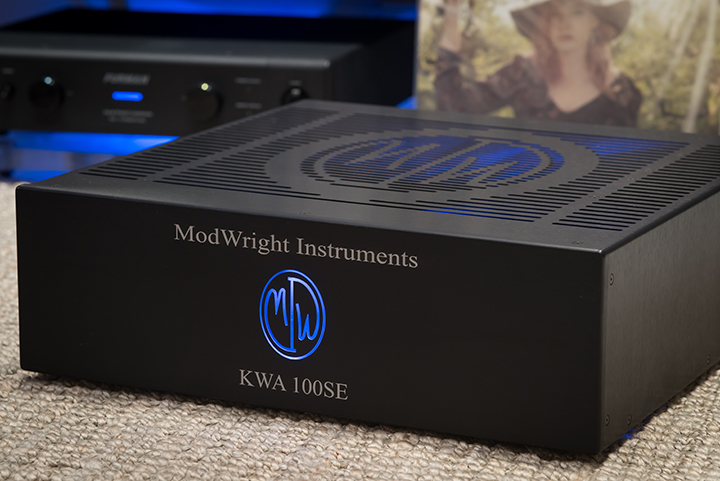 The KWA 100SE at 17.75 (w) x 17.5 (d) x 6.5 (h) is no small box. The case is clean and simple, the covers have milled slots for cooling reasons. For my taste, the outside is a bit strong on branding; with the company name and logo, drawing all the attention on the top and front of the unit. Otherwise, it's rock solid with a high-end feel, but certainly not in the sense of audio jewelry.
On the back of the amplifier there are two pairs of loudspeaker terminals and inputs (RCA or XLR). Also in the back, is the main power switch. While, the standby power switch is oddly placed underneath the front left side of the amp (when see from the front).
There are two switches in the back panel, one turns on and off blue LEDs, to illuminate the top of the unit from the inside, the second switch let you play with the amp grounding scheme.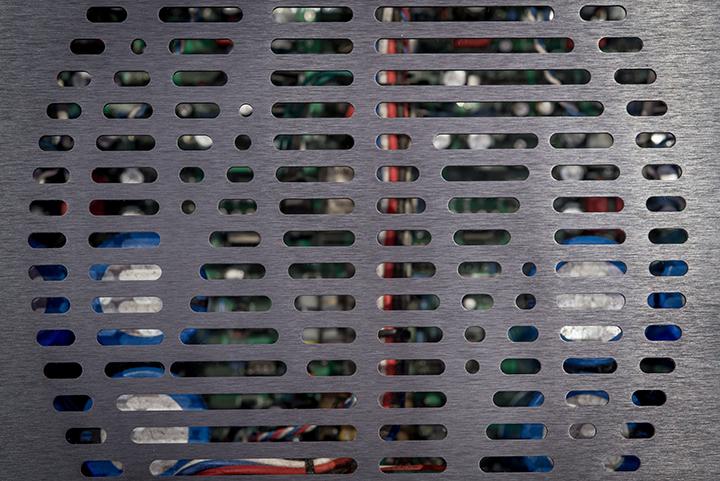 Looking inside you find a lot of high quality components, a large toroidal transformer and minimal wiring. The KWA 100SE Amplifier has a single voltage gain stage and uses no global feedback, the amplifier is direct-coupled and fully differential. It delivers 120 Watts at 8 Ohm and 210 Watts into 4 Ohm per channel, the first watts are class A. All this should translate to an authoritarian control of even the most demanding speaker drivers.
Installation
With the Marantz serving as pre-amplifier, the KWA 100SE was connected using hybrid silver and copper Vampire Interconnect cables, as my Nordost Red Dawn interconnect were not long enough to reach the amplifier. For power cord, I use a Pangea AC14se. All listening was done using an analog source.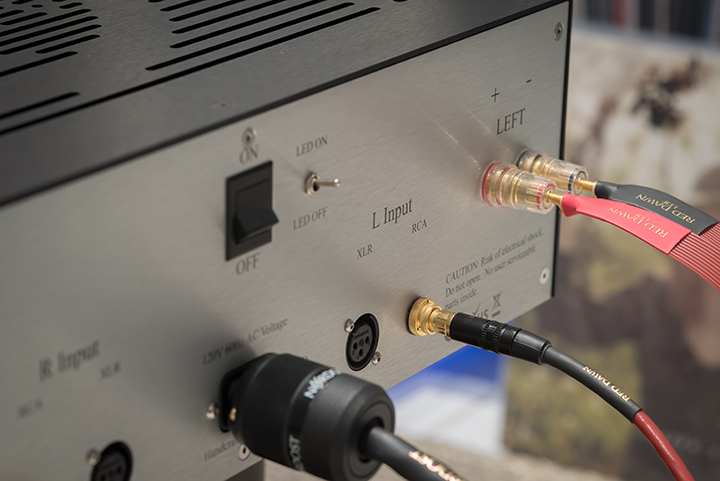 Sound
I can describe this amplifier in a few words; transparent, neutral, fast and reveling. Its presentation is honest but not as composed and sophisticated as other amps, it would unquestionably expose some speakers designs as inferior. But correctly paired it will deliver mind blowing dynamics, it has broad control over the speaker execution.
The high frequencies are extended and full of air and space. In Yo-Yo Ma new album, Bach Trios (Nonesuch 558933-1) the intimacy of the recording, ambiance around the instruments and decay of instruments is rendered beautifully. The midrange has good weight and apparent natural tone.
To see how good this amp would pair with a separate pre-amplifier, I use the Rogue Audio RP-5 (soon to be reviewed at formatoanalogo.com). As expected, this tube based pre-amplifier embroidered the good sound characteristics of the ModWright. At the same time, imparted his own sound signature. It helped dampen the high frequencies and provide a more profound musical soundstage. Combined with a good tube front end this amplifier can deliver exceptionally good sound.
Conclusion
Coming back to my Marantz integrated; the sound coming out of my speakers was kind of weak, compared to de ModWright, the dynamic reach and perception of reality was reduced. Unquestionably having the KWA 100SE was an upgrade in my system, I endorse any one looking for an amp to give it a listen.
If you liked this article you may be interested on our review of the Rogue Audio Sphinx V2.
Specifications:
ModWright KWA 100SE (Power Amplifier)
www.modwright.com
Estimated Price: $5,250
Typology: Class AB operation
Power Rating: 120w @ 8ohms / 210w @4ohms
Power Transformer: 500VA
Bandwidth: 10 Hz – 100kHz (+/-1db)
Noise Floor: -97db
Gain: 26db
Weight: 40lb
Dimensions (W x H x D): 17.5 x 6.5 x 17.5in
Associate Equipment:
Turntable: Clearaudio Champion w/ Unify Tonearm
Cartridge: Ortofon Quintet Black (Original Boron Cantilever Version)
Step up transformer: Ortofon ST-7
CD player: Marantz SA-15s2 Limited
Integrated amplifier: Marantz PM-15s2 Limited
Power conditioner: Furman Elite-15 PFi
Interconnect cables: Nordost – Red Dawn (0.6m) (RCA)
Speaker cables: Nordost - Red Dawn LS (2.5m)
Power cables: Nordost - Red Dawn (1m)
Acoustic materials: MioCulture
Follow FormatoAnalogo.com on Facebook and be part of the high-end vinyl community. Also, don't forget to subscribe here…
Due to reader's popular demand, we are changing the site main language to English. We would try to translate all of our old articles as soon as possible, but it would take time. As always we appreciate your patience and support.
Categories: Power Amplifiers Reviews
/