Shopping Cart
Your Cart is Empty
There was an error with PayPal
Click here to try again
Thank you for your business!
You should be receiving an order confirmation from Paypal shortly.
Exit Shopping Cart
| | |
| --- | --- |
| Posted on April 4, 2017 at 7:05 PM | |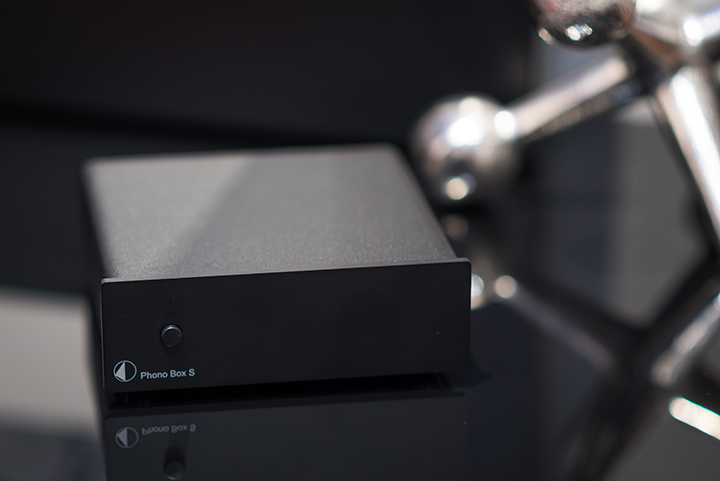 The Pro-Ject Phono Box S is designed to fulfill the amplification needs of budget minded vinyl lover, without sacrificing adjustability and compatibility. But do this likeminded phono pre-amp compromises performance to meet its $199.99 price point.
Construction
The Phono Box S is confined in a small case, allowing for easy positioning beneath a turntable. Its weight of 1.25 lb, which helps with the perception of quality. Although, most of this weight is due to its robust chassis and not its internal components. The front plate is available in black or silver to ease the integration in any system.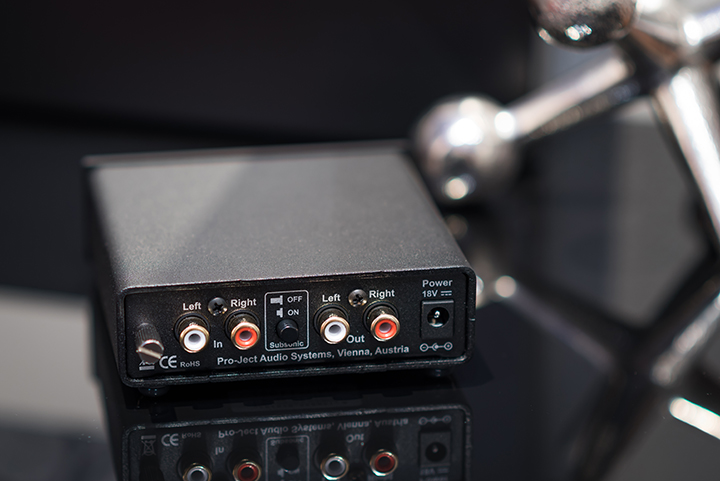 There are input, output and ground connectors in the back. Also, there's a button to trigger the subsonic filter. This filter helps control excessive movement of the "Woofer", movement caused occasionally by the ripples in the vinyl discs. It uses an external power transformer, common at this price point, with a variety of adapters to fulfill the power needs anywhere in the world.
On the inside, we discovery a small circuit board, with discrete "dual mono" configuration and three small WIMA polypropylene capacitors. All in accordance with the marketing material. However, the assertion that the components are audiophile-grade are a bit overstated and are focused to the uninformed buyer.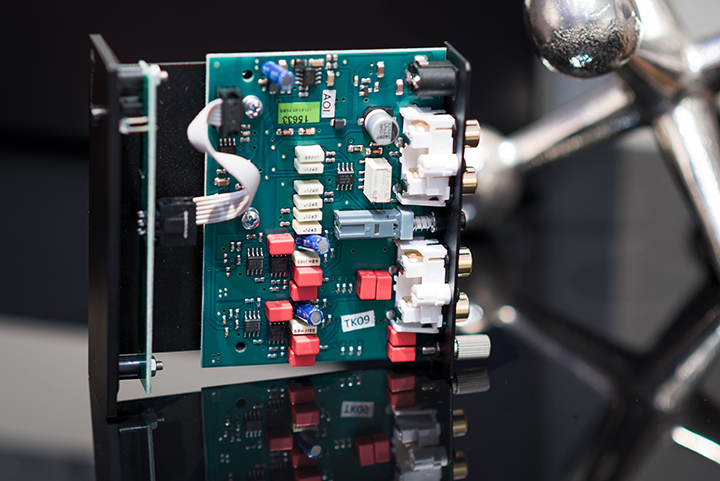 All the magic happens down below, were we find dip switches that allow for gain, loading and capacitance adjustments. Making the Phono Box S compatible with a considerable sum of phono cartridges, whether Moving Magnet (MM) or Moving Coil (MC).
Signal gain settings are 40, 43, 60 and 63 dB's. Moving Coil Cartridge (MC) loading can be adjusted to 10, 100 and 1,000ohms. Even, the moving magnet cartridge (MM) capacitance can be switched between 100, 200, 320, and 420pf. This is the most adjustability I have seen in a phono pre-amp at this price.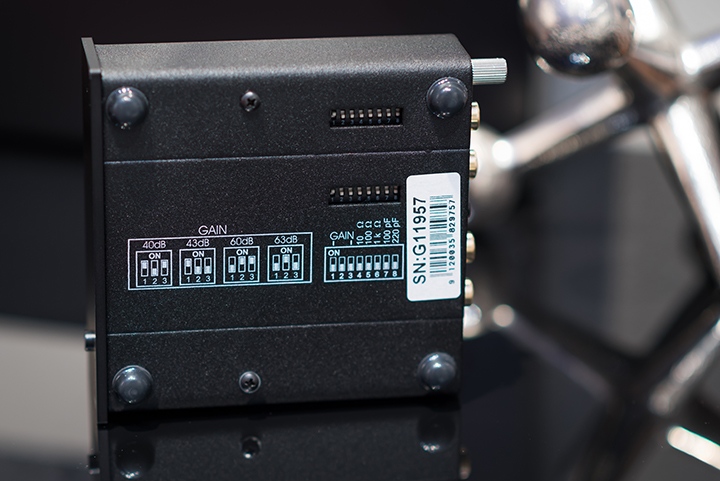 Sound
The Ortofon 2 M Red is one of my favorite entry level (MM) cartridges, so I gave it a try for this review. With the phono gain set to 40db, the sound I got from the 2M red is energetic and with lot of presence. The extension of high and low frequencies is appropriate. However, the bass is a bit wobbly and booming. Likewise, resolution, analysis and transparency are traded for a warmer more lay back presentation. Attempts to adjust capacitance seemed to have no effect on this cartridge.
Let be fair, this phono pre-amp is designed to work with entry level cartridges and be pleasing to the ear, but I wanted to grasp what it could do with a more expensive cartridge, like the Ortofon Quintet Black. To use the Quintet Black (MC) I changed the gain to 60db and adjusted the loading until I settled at 100ohms were I got the best performance on my system, even though Ortofon recommends 20ohms.
Again, I wasn't expecting exceptional performance with a cartridge of this level. However, the Phono Box S amplified the signal at a reasonable quality. Nevertheless, it was clear it could not keep pace with the minor changes in volume and detail that the Quintet Black extracts from vinyl records.
Conclusion
Pro-Ject Phono Box S flexibility makes it appropriate for an evolving analog set up, its sound quality is correspondent to its price. Moreover, it is a decent replacement for the mediocre solutions found on most turntables, receivers and integrated amplifiers.
If you liked this article you may be interested on our Vincent Audio PHO-8 phono preamplifier review.
Specifications:
Pro-Ject Phono Box S
www.project-audio.com
Estimated price: $199.99
Frequency response: 20 - 20kHZ (+/- 0.4 dB)
Gain settings: 40/43dB (MM) / 60/63dB (MC)
Loading settings: 47kOhm (MM) / 10/100/1000Ohm (MC)
Capacitance: 100/200/320/420pf
Dimensions: 4.0" (W) x 1.4" (H) x 4.0" (D)
Weight: 1.25 lbs.
Associated Equipment:
Turntable: Clearaudio Champion / Unify Tonearm 9"
Phono Cartridge: Ortofon Quintet Black (Original Boron Version)
CD Player: Marantz SA-15s2 Limited
Integrated amplifier: Marantz PM-15s2 Limited
Speakers: Dynaudio Contour 20 / Stands Dynaudio Model 6
Power Conditioner: Furman Elite-15 PFi
Interconnect cables: Nordost – Red Dawn (0.6m) (RCA)
Speaker cables: Nordost - Red Dawn LS (2.5m)
Power cables: Nordost - Red Dawn (1m)
Acoustic materials: MioCulture
The reviewed product was provided to FormatoAnalogo.com by:

Audio visual equipment store
f. @Audioworkspr
t. (787) 765-8188
Tuesday to Saturday, 10:00am - 6:00pm
San Juan, Puerto Rico
Follow us on Facebook, your all in one online analog and high-end audio information resource. Also, don't forget to subscribe to FormatoAnalogo.com.
Due to reader's popular demand, we are changing the site main language to English. We would try to translate our entire old article as soon as possible, but it would take time. As always, we appreciate your patience and support.
Categories: Phono Preamplifiers Reviews
/