Shopping Cart
Your Cart is Empty
There was an error with PayPal
Click here to try again
Thank you for your business!
You should be receiving an order confirmation from Paypal shortly.
Exit Shopping Cart
| | |
| --- | --- |
| Posted on March 7, 2017 at 2:55 PM | |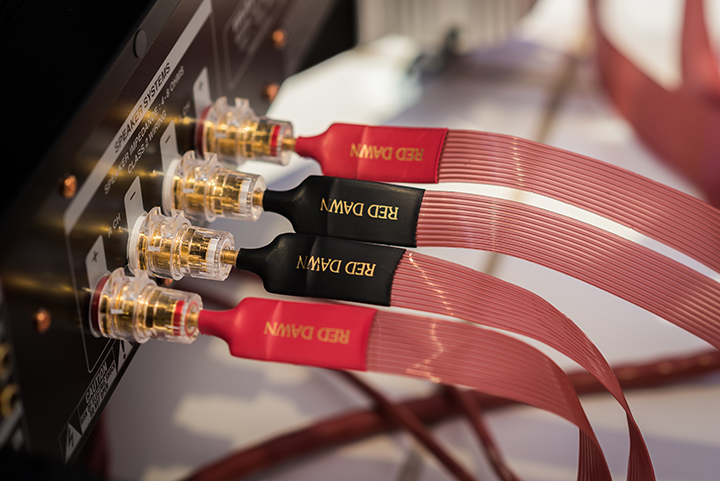 I have mentioned before I'm not a big believer in Hi-Fi cables. They are a controversial topic, since scientifically it is not simple to explain its effect on music playback. In my experience must changes in sound relating to cables have been slight, if any. Today I must retract my words, as the Nordost Red Dawn LS speaker cables had made me change my mind.
Construction
Red Dawn is the top product in the Nordost LEIF line. The speaker cables consist of 20 heavy-gauge 26 AWG, silver-plated OFC solid core conductors with Nordost propietary FEP "Florinated ethylene Propylene" insolation, which mechanically optimizes the space between the conductors and provides durable and wear-resistant protection.
The notorious flat design of the Nordost cable has not changed, the only difference in the new LIEF series is that cables are only available in "single-wire" or "Shotgun" configurations, Nordost do sell jumpers for bi-wire speaker. The cable can be ordered in custom lengths and terminated with either banana plugs or spades connectors.
Sound
Replacing the AudioQuest Type 4 speaker cables used on my system with the Red Dawn speaker cables resulted in unexpected changes; the speed, grace, control, detail and micro dynamics of my system improved significantly.
the Jeff Buckley recording of "Hallelujah" on his album Grace (Columbia - 88697779831) the complex music passages are easily resolved with each instrument occupying his own space, driver reaction time and speed was apparent, detail and transients were palpable and not obscure in the background. From start to finish of the music is awfully precise and small detail become traceable. 
Returning to my old cables was disappointing, the sound was congested and restrained in a way that was never apparent before. To my surprise, even my spouse noticed the difference.
Conclusion
I have deferred the investment in decent quality cables for a long time. You should not make the same mistake; your audio system performance may be limited and you not be aware of it. There's no guarantee these cables may have the same outcome in other audio systems, the variables are too many. However, I recommend you contact the nearest Nordost dealer to try it at home. Maybe, the Nordost Red Dawn cables can unleash the true potential of your system. 
Additional notes:
Since finishing the review of the speaker wire, I had the opportunity to borrow a Nordost Red Dawn power supply cable and a pair of RCA interconnects. The effect was incrementally the same described before. I am seriously considering giving these cables a permanent home.
If you liked this article you may be interested on our Ortofon 6NX-TSW-1010R (RCA Cable) review.
Specifications:
Nordost Red Dawn LS (Speaker Cables)
www.nordost.com
Estimated Price: Please Contact Your Nearest Authorize Dealer
Length: 4.0m (13 feet)
Termination: Banana a Banana
Insolation: Fluorinated Ethylene Propylene (FEP)
Construction: 12 AWG (aggregate)
Conductors: 20x Silver-Plated 99.9999% OFC Solid-Core
Capacitance: 10.0pf/Ft
Inductance: 0.155uh/Ft
Associated Equipment:
Turntable: Clearaudio Champion w/ Unify Tonearm
Cartridge: Ortofon Quintet Black (Original Boron Cantilever Version)
Integrates Amplifier: Marantz PM-15s2 Limited
CD player: Marantz SA-15s2 Limited
Speakers: Dynaudio Contour 20 / Stands Dynaudio Model 6
Power conditioner: Furman Elite-15 PFi
Interconnect cables: Nordost – Red Dawn (0.6m) (RCA)
Speaker cables: Nordost - Red Dawn LS (2.5m)
Power cables: Nordost - Red Dawn (1m)
Acoustic materials: MioCulture
The reviewed product was provided to FormatoAnalogo.com by

Audio visual equipment store
f. @AudiovisionariesLLC
t. (787) 728-6969
Tuesday to Saturday, 10:00am - 6:00pm
Guaynabo, Puerto Rico
Follow us on Facebook, your all in one online analog and high-end audio information resource. Also, don't forget to subscribe to FormatoAnalogo.com.
Due to reader's popular demand, we are changing the site main language to English. We would try to translate our entire old article as soon as possible, but it would take time. As always, we appreciate your patience and support
Categories: Accessories Reviews
/